About Carpetbuyer
CarpetBuyer was established in 2003 by Mr. Nadeem Butt whose family was in the carpet business for over 40 years in Hong Kong. Over the many years Mr. Butt gained experience and knowledge of the trade through the family business and had first hand experience of travelling and buying carpets from places in Pakistan, India, Turkey, Afganistan and China. The Carpets are Hand-made in wool or wool and silk in an array of sizes and colors. During these years Mr. Butt has also ran independently a carpet shop in the China Fleet Club, exclusive supplyer to the U.S. Navys under Oriental Carpet Trading House Ltd, which was a branch of the existing business in Wyndham Street amongst other businesses successfully.
CarpetBuyer moved to Horizon Plaza in 2003 occupying 8,000 square feet shop on the ground floor and continued expanding the trade with our unique and exclusive collections of Designer Modern Carpets to Tibetans Rugs, Fine and Old Persian styled City Carpets, Tribal's Village Rugs, Antique Persian Styled rugs and many more styles. We moved in the summer of 2009 into their new location on the 17th floor, Units 1715-1718, and again in March 2016 to the 26th floor, Units 2604-07 with a new team including the experience of a renowned veteran of the carpet industry Consultant Ms. Heena Mir who has been in the forefront in Fine, Antique, New and Old Persian Styled Carpets for 25 years. With Nadeem 3 Generations and Heena 5 Generations of expertise together they provide their vast knowledge, education and years of experience between them to the Hand-made Carpet business the result is obvious, is exceptional under one roof and an envious position to be in!
We are proud to say that we have along the years built a reputation for ourselves and provided excellent quality carpets and service to the many people of Hong Kong and internationally in wholesale and retail. With the new team Mr. Butt has expanded the business and its range of Carpets for the local and International markets and has grown to become one of the leaders in the local and International markets, sourcing and collecting hundreds of carpets which are on display in their 4,000 sq.ft Discount Outlet with over 4,000 pieces from small to large, Modern to Ethnic, Old to Antique, Soft and Silky Shaggys there is something for everyone and as we scour the world looking for stock lots there is always something magical happening every month.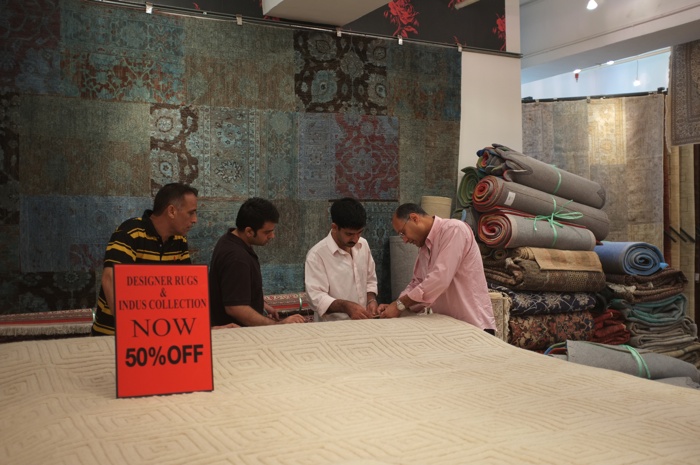 "We look forward to having your continued support and commitment in our endeavors. With every step we take, we take it for you for a better product with a friendly staff and our own in house Decorator and Consultant to assist you to make the right choice for yourself, your home or office for family use or investment we are your team along the way" Yours sincerely, CarpetBuyer